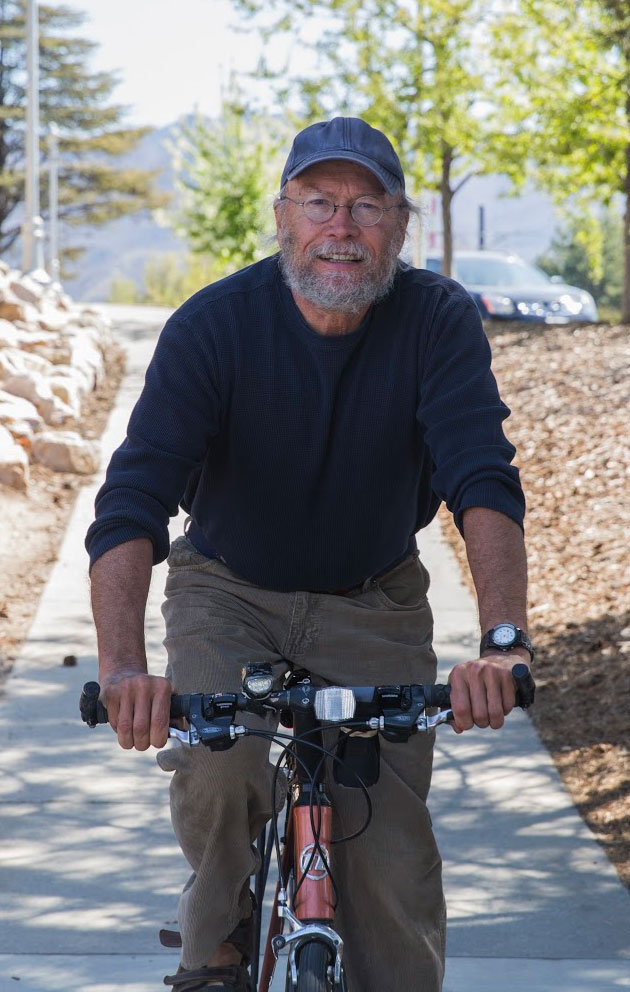 Dr. Dave, PCS Head
David Derezotes was born on the South Side of Chicago, and lived for years in California, where he earned his MSW (1980, San Diego State University) and PhD (1989, University of California, Berkeley). He worked as a social worker in a number of inner city locations, in Chicago, Boston, Oakland, San Francisco, and San Diego, providing counseling to youth, couples and families and community mental health work to institutions and neighborhoods.
Dr. Derezotes, or Dr. Dave, accepted a position in the College of Social Work (CSW), University of Utah in 1989. His scholarship at the CSW has included advanced generalist social work practice, community mental health, spirituality, deep ecology, and global survival. His many presentations and publications include six textbooks that range from mental health practice to dialogue practice. His latest text is a novel that incorporates both mental health and peace and conflict studies content. He was tenured in 1994 and was promoted to Full Professor in 2000. At the CSW, he has served as Chair of the Practice Committee, Chair of Mental Health, and Director of the Bridge Training Clinic.
Over the years, Dr. Dave taught across campus in many locations, including in Social Work, the Honors Program, the Utah Leadership Education for Children with Neurodevelopmental and Related Disabilities (ULEND) program, Health Promotion, and the Center for Teaching and Learning Excellence (CTLE). He was appointed Director of the Peace and Conflict Studies program in 2013, and he became Director of the Transforming Classrooms into Inclusive Communities (TCIC) program in CTLE in 2016. He was given CSW "Teacher of the Year" six times and was awarded the University Distinguished Teaching Award in 2015.
Dr. Dave has been very active in the campus and community. He currently facilitates the President Watkin's Anti-Racism Task Force. He is frequently asked to speak with local media about current events, and currently is Community Co-Host on his KRCL Radio Program, "The Radical Middle", where he asks his guests to find common ground through dialogue. He also co-directed the "Transforming Neighborhoods into Inclusive Communities" grant through University Neighborhood Partners. He served for ten years as clinical supervisor at the Indian Walk in Center (Now Urban Indian Center), for ten years as a psychotherapist at the Family Counseling Center, 8 years as a supervisor for the Counseling center at Calvary Baptist Church and 7 years as practicum supervisor the University Counseling Center. He received the "Civically engaged scholar of the year" award from the Lowell Bennion Community Service Center in 2009, and the "McFee Award for Community Service" award from the CSW in 2008.
Dr. Dave also provides mentoring to many students, staff, and faculty at the CSW, PCS, and CTEL sites. As a MUSE Professor at the University, he works with many undergraduate students. He received the "Philip and Miriam Perlman Award for Excellence in Student Counseling" award from the Utah Alumni Association in 2015.
Perhaps most noteworthy now, in this current era of pandemic, protests, and polarization, Dr. Dave has been a leader on campus and in the community in providing guidance to the public and to other professionals in dealing effectively with these issues. For example, he was one of the founders four years ago of Undergraduate Studies' successful campus training program, "Privilege, Whiteness, and Critical Praxis". His leadership on the President Watkin's Anti-Racism Task Force helped move that task force into a standing committee (which he Co-Chairs now) and his leadership in the Senate Advisory Committee on Diversity led to presentation of recommendations to the Senate last Spring on issues of race, equity, diversity, and inclusion. He founded the Transforming classrooms into inclusive communities program which now has become institutionalized in the University. His programs this year on KRCL radio and his public zoom meetings for Utah Humanities provided opportunities for the public and professionals to participate in dialogues about mental health in the pandemic, anti-racism work, and remedies for public polarization.
Dr. Dave can also be found in the deserts of Utah, where he has been known to frequently roam across the lands he loves, enjoying the natural beauty of our state. May we all enjoy and protect our sustaining ecosystems!